Ombré Microblading Eyebrows is one of the most popular beauty trends for 2019 and I am here for it. Gone are the days of the pencil-thin aesthetic – we want thick, dark, brows that actually FRAME the face! Why are we just now discovering this beauty hack?!
In this post, I'm going to share my personal experience with Ombré Microblading Eyebrows, details on what it is exactly, why you need it, how much it costs, the upkeep, and of course, where to go.
I'm also going to share why I prefer Ombré over traditional Microblading.
What Is Ombré Microblading?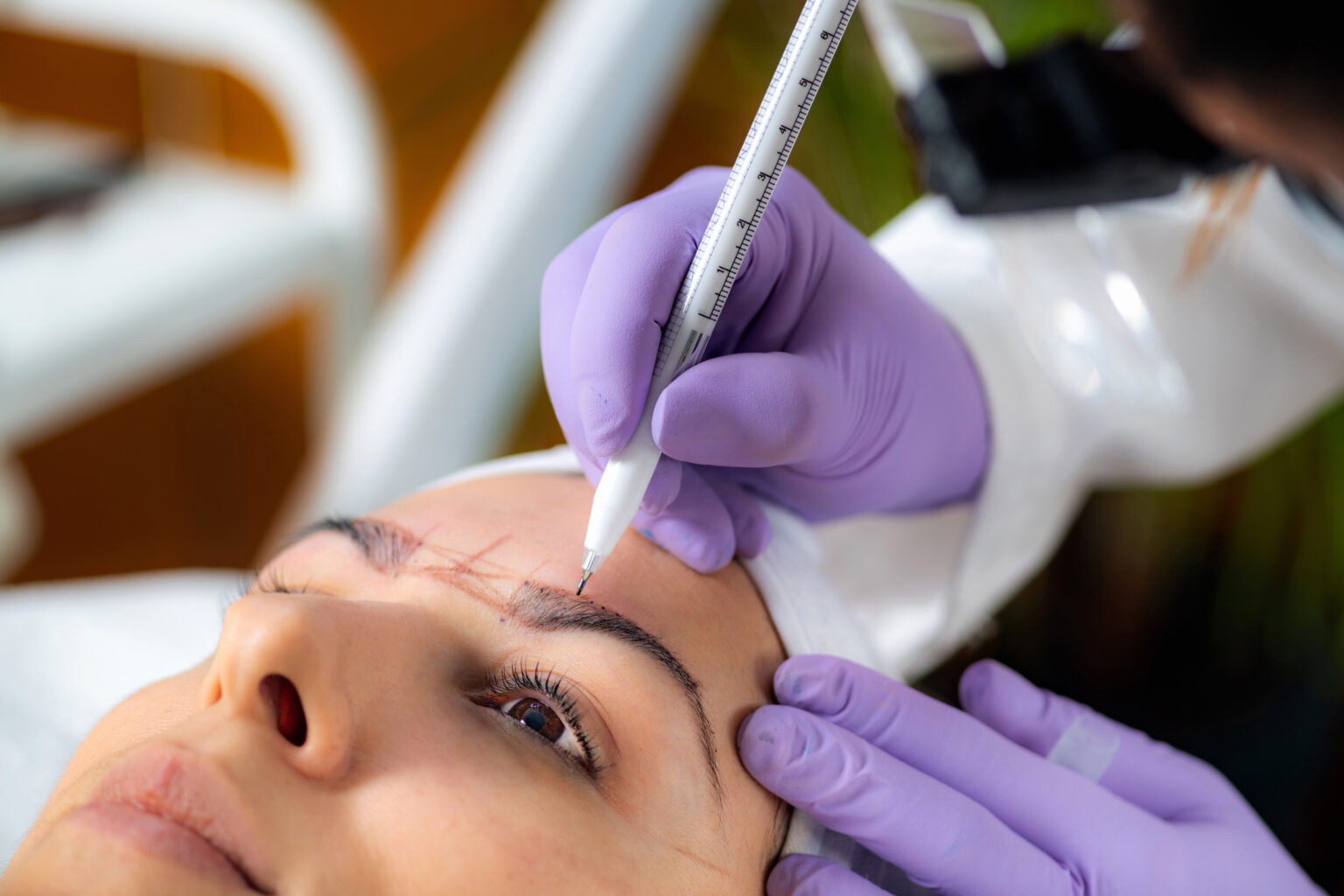 Ombré, also know as Powder Brows, is similar to a traditional tattoo in that it involves the application of thousands of tiny dots of pigment, inserted into the skin, gradually building up a color and defined shape. The result is a fuller, darker brow that gradually fades from the base to the top, creating a gorgeous natural look.
How Does Ombre Differ from Traditional Microblading?
Traditional Microblading uses a hand tool to create individual hair like strokes that mimic natural hair. Due to the shallow depth of skin pigment and the nature of the technique, the result is light and can require several touch ups to maintain.
It's important to note, traditional Microblading is NOT suitable for every skin type. If you have oily skin it can effect the healing process, which in turn, has a negative effect on the final result. This is not a cause for concern with the Ombré shading technique.
Everything You Need To Know About Ombré Microblading Eyebrows
How To Find A Microblading Technician
The most important factor in considering Ombré Microblading is knowing where to go. You want to make sure the esthetician has a 100% safety rating and is certified by the PMU and Tattoo Board.
If you're in the Pacific Northwest, I highly recommend Kim Filion, founder of London Brows in Mill Creek, WA. She is an advanced Ombré Microblading technician, world-class master trainer and beauty trend expert.
I use her as an example because she is who I trusted to do my Ombré Microblading. The results were beyond my expectations, compelling me to share the experience and information I learned along the way. Much of which was provided by Kim since she is extremely well-versed in semi permanent eyebrow techniques.
Even if you live outside of the Seattle area, I would contact Kim for recommendations near you.
Before Your Appointment
1 Week Before: Avoid ibuprofen, fish oil and sun tanning
24 hours Before: Avoid alcohol
Morning of: Avoid caffeine and do not wear makeup
The Ombré Microblading Process
Once you arrive for your Ombré appointment, the esthetician will apply a topical numbing cream. Then she'll stencil in the ideal shape of the Ombré brow. Once she begins the Ombré process you might feel mild discomfort, but it gradually reduces. The entire process should only take about 2 hours. And the results are immediate!
Aftercare
Ombré aftercare is super important and will have a dramatic effect on your final results.
For dry to combo skin, apply ointment your esthetician provides sparingly once a day. Just remember less is more. If you feel like you are still moisturized, you can skip a day and apply every other day as needed for the entire healing time of 7-14 days.
Avoid getting your eyebrows wet for the first 7 days. If you do, gently pat them dry with a clean tissue immediately.
Avoid direct sun exposure or tanning for 4 weeks after the procedure. Wear a hat when outdoors. (This may cause scarring and poor retention)
Avoid all unsanitary environments for the first 7 days.
Use a fresh pillowcase while you sleep.
Be mindful of your eyebrows while you are changing out of tight shirts.
Let any scabbing or dry skin naturally exfoliate away. Picking can cause scarring or loss of color.
No facials, botox, chemical treatments or microdermabrasion for 4 weeks.
Avoid hot, sweaty exercise for one week.
Minimize shower time and water temperature and avoid long, hot showers for the first 7 days. (No steamy showers this will cause poor retention)
Avoid sleeping on your face for the first 7 days.
Avoid face-down swimming, lakes, and hot tubs until you are done healing and free of flakes/scabs.
Avoid topical makeup and sunscreen on the treated area until they are fully healed.
DO NOT rub, pick, or scratch the treated area.
DO NOT pencil in the areas that are spotty during the healing time (This is crucial if you want detailed and optimal results.)
Your eyebrows will go from dark, to light, to PERFECT!
How Long Does It Last?
The Ombré pigment will last 1-4 years, with a color boost at 12-18 months if desired.
How Much Does It Cost?
Ombré Microblading can range from $395-$595, plus a touch up fee between 4-8 weeks.
The Verdict
You may have heard of traditional Microblading before, but I hope after reading this post, you'll feel well-informed on the Ombré technique, the ideal semi permanent eyebrow tattoo method that provides unparalleled results.